Office Interiors - Partitions - Suspended Ceilings - Lifetime Ceilings
Lifetime Ceilings Ltd was originally established in 1990.
Based in Bolton, we operate predominantly in the North West, but have completed various contracts nationwide including three contracts in Northern Ireland.
Our large open plan office allows us to work as a team and get our heads together for problem solving, design issues etc. Our fitters are all experienced and are CSCS carded.
Contract values range from a few hundred pounds up to six hundred thousand pounds.
We are members of the Association of Interior Specialists (AIS) and have been for many years, we are also an Omega contractor (formerly ARIC Armstrong Recognised Interior Contractor), for which we are vetted on an annual basis. We are CHAS accredited and members of Constructionline. We often give advise to Architects and Designers when on Design & Build contracts. Our client list includes many local authorities including Bolton, Salford, Trafford & St Helens, and numerous reputable building contractors. We also undertake many complete interior fit-outs and refurbishments for end users.
Look in the British Gypsum White Book pages 266 and 302 (Casoline MF & Casoline grid) to see photographs of some of our work at Manchester Academy.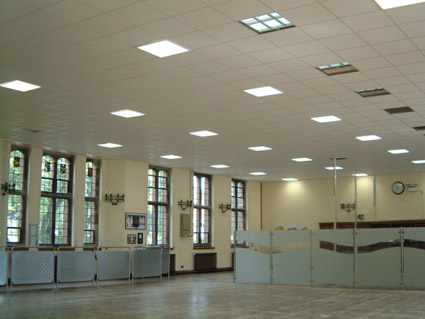 Brown & Whittaker Ltd
- John E Burrow (Services Manager)
Just a few lines to say how pleased we are with the latest job Lifetime Ceilings have undertaken on our behalf, namely the three replacement squash court ceilings.
The school was very pleased when the courts were handed back a week earlier than planned. This was mainly due to your forward planning and your operatives working late, and through the weekend.
It is a pleasure to work with a company you know well and can trust to meet the tight schedules we all find our selves struggling with.
As you know the majority of the work where we require your skills, has quite often been in banks and schools where security and other issues are paramount. This is yet another reason why we have to be very careful when choosing contractors. We need someone we can trust and know Lifetime Ceilings fits the bill!
We know we can depend on you to help with pricing and design issues, and recommend new products we have never even heard of.
Click here to view the testimonial PDF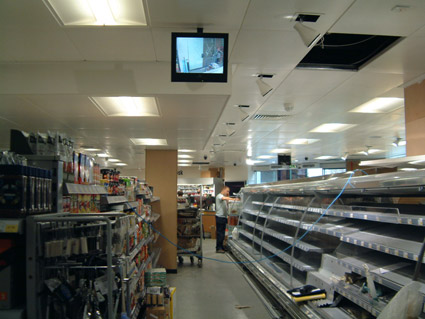 Clovemead Ltd
- Geoff Riding (Operations Director)
May we take this opportunity to thank you for the service provided to our company over the last 18yrs and we would not hesitate to use you again on other coming projects.
You have worked with us on various projects, and we find your professionalism and commitment in getting tenders back on time and getting the job done on programme first class along with giving advise where and when needed.
There have been many occasions where you have provided us with a solution to design issues like acoustics or fire protection which gives us peace of mind knowing we are dealing with a company that cares.
Your approach and attention to detail is outstanding with you having the experience in all aspects of your industry. We also find that your operatives in the field show a good professional approach to all health and safety matters and we would have no hesitation in recommending you to any other prospective clients.
Click here to view the testimonial PDF

Health and Beauty Wear Limited
- Subash Bansal (Managing Director)
I would like to congratulate you for a fantastic job you did on fitting out our new premises. I was amazed how you were able to complete all elements of the works with professionalism and an understanding of our requirements. We will have no hesitation in using you for any future works and will certainly recommend you to others.
Once again thanks for a brilliant job well done.

Click here to view the testimonial PDF